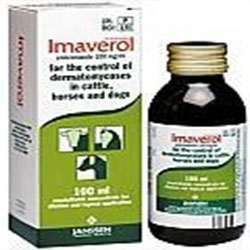 Imaverol – 100ml
€53.00
Imaverol highly effective treatment for ringworm and other fungal infections.
The concentrated Imaverol solution should be diluted by adding one part to 50 parts of warm water, to provide a 0.2% w/v emulsion. Dermatophytes will extend into the hair follicles. Possible crusts must therefore be removed with a hard brush, which has been soaked in the diluted Imaverol emulsion.
It is highly recommended that the animal be sprayed entirely at the first treatment so as to reach the subclinical lesions as well.
Out of stock