Sale!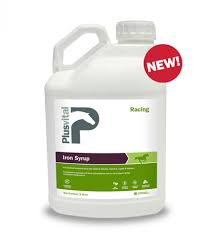 Plusvital Iron Syrup 5L
€42.50
IRON SYRUP: CONCENTRATED IRON-ENRICHED MOLASSES SYRUP WITH ADDED B VITAMINS, VITAMIN K AND COPPER THAT IS CAREFULLY FORMULATED TO PROMOTE RED BLOOD CELL PRODUCTION AND FOR EXTRA SUPPORT DURING TRAINING AND CONVALESCENCE
Stress and illness can increase the demand for iron in the diet, leading to deficiency and fatigue. Plusvital Iron Syrup, combined with B vitamins, Vitamin K and Copper, aids in the formation of red blood cells. Red blood cells carry haemoglobin which transports oxygen around the body and is necessary for a healthy circulatory and respiratory system and, therefore, for the health and stamina of the performance horse.