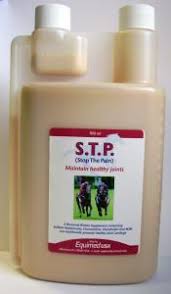 S.T.P. Stop The Pain 900ml
€130.00
From Equimed USA S.T.P. is one of very few joint care products to contain all the essential ingredients including Green Lipped Mussel for maintaining healthy joints.
Ingredients: Sodium Hyaluronate H.A., Glucosamine HCL, Green Lipped Mussel, Chondroitin Sulphate, MSM, Yucca and Boswellia Serrata.
This product will not only keep joints moving freely but also acts as an anti inflammatory and pain killer and is safe to race and compete on.
30ml twice daily for 14 days then 30ml daily.
Out of stock