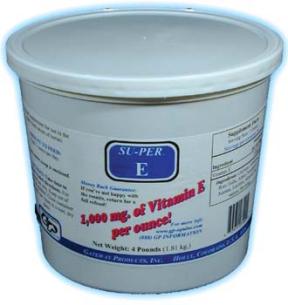 Vitamin E 2.5LB
€15.95
Vitamin E – 1,000 I.U. per ounce
Vitamin E is an anti-oxidant.
Halter breaking, transporting and weaning are periods when higher levels can prove beneficial.
Studies are now also proving higher levels of Vitamin E are needed during lactation and the last trimester of a mare's pregnancy as it improves colostrum thus helping to improve the foal's immune system.
Vitamin E is also known to improve the breeding stallions sperm count and increase stamina during the breeding season.
Horses in heavy work would benefit from the addition of Vitamin E especially late in the season where over training is an issue.
Recommended Feeding Amount: 1 ounce daily. 2.5lb (6 Week Supply)
Add to Wishlist