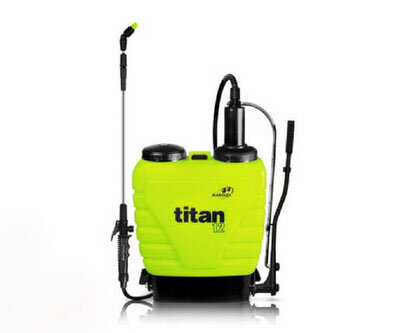 TITAN KNAPSACK SPRAYER – 12LTR
€166.05
Titan is a modern and comfortable knapsack sprayer available in 12 litres capacity.
Knapsack Sprayer is perfect for spraying plant protection chemicals and liquid fertilizers in greenhouses, orchards and on plantations.
Titan knapsack is designed to make their operation easy and comfortable. The lever can be turned to either side of the sprayer for both right and left-hand operators. The length of the telescopic lance can be adjusted easily to suit the user's needs. The lance has an antipollution device what secures the telescope from getting dirty and getting blocked. Glass elements in the pump's valves are resistant to chemicals thus guarantee long-term operation. Titan knapsack has Viton seal which is Acid-resistant.
All elements of Titan are made from high quality, durable, and chemical-resistant materials.
The knapsack is generously equipped and has a wide range of additional accessories is available to make the work easier and efficient.
The Titan Professional Knapsack Sprayer – Has a working capacity of 12 Ltrs. The Titan Knapsack Sprayer is an extremely efficient, versatile and easy to use device.
When used in the Agriculture industry the Knapsack Sprayer is effective in protecting crops, trees vegetables vineyards and all other agricultural and garden plants against insects and weeds when used with the right chemicals.
The Titan Knapsack Sprayer comes with a long telescopic handle and is fitted with dirt resistant seals APS seals (Anti-Pollution Seals).
The fully adjustable nozzle is fitted with a regulated stream angle allowing ease of use for those difficult areas. The Knapsack Sprayers adjustable nozzle allows you to spray a fine mist or jet spray and has a trigger lock for continuous spraying.
The Knapsack Sprayer will offer 3 bar (0,3MPa) pressure continuous pressure supply.
The hosing on all Titan Knapsack sprayers is a triple layered reinforced hosing offering complete protection against leaks.
The Pressure Pump on the Knapsack Sprayer is designed for both left and right hand users thanks to its soft adjustable shoulder straps and harness for added comfort.
Titan Knapsack Sprayers have graduated markings on the tank allowing you get the correct chemical dosing when mixing liquids.
The Marolex Titan Knapsack Sprayer is the perfect lightweight (3.8kg Unfilled) heavy duty all round back pack sprayer.