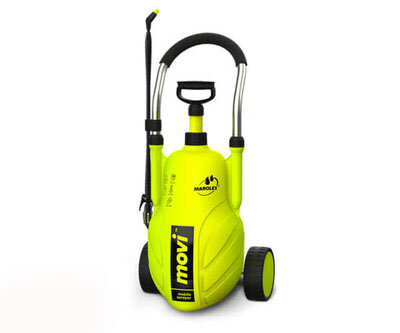 GARDEN SPRAYER ON WHEELS – 18LTR
€172.20
The sprayers are perfect for spraying plant protection chemical or liquid fertilizers in orchards, nurseries, gardens, plantations, greenhouses.
MX20 sprayers are professional, practical, reliable, and easy to use. Every detail of our sprayer is designed to meet your expectation. Every element of these devices is exactly tested before final assembling.
All parts of the sprayers are made from high quality, long-lasting and chemical-resistant materials. Profession sprayers meet even the most sophisticated user's needs. To improve the comfort of usage, each MX20 is generously equipped and all the parts are very strong and efficient.
MX 20 is one of the most user-friendly sprayer you can find.
Features / benefits:
large working capacity – a larger area subjected to treatment without the need to top up the tank
large wheels with a wide profile to facilitate movement even on an uneven surface
soft handle with adjustable length – comfort for the hand and the possibility of individual height adjustment
telescopic lance with adjustable length – longer range without the need for additional tools
dust protection of the lance: APS (Anti.Pollution.System) – a guarantee of trouble-free operation
NBR (rubber) seal
Specification:
Total capacity: 20ltr
Working capacity: 18ltr
Preasure: 0.4 MPa
Weight: 4.3kg
Height: 79cm
Deep: 34cm
Width: 39cm
Telescopic lance lenght: 125cm